The following article was authored by A.J. Mistretta and originally published in the Greater Houston Partnership blog:
Following a year filled with extraordinary challenges, the Houston region is looking ahead to 2021 with cautious optimism. The last 12 months brought significant economic development wins to the area in the technology, new energy and aerospace sectors, among others. But the pandemic-induced recession that gripped the world cost this metro dearly in terms of lost jobs and business. Still, a slew of major projects and much-anticipated initiatives are set to materialize in 2021 as Houston works toward a broad recovery.
The Vaccine Rollout
Though the deployment of approved COVID-19 vaccines is a global undertaking, the continued recovery of the Houston economy hinges on the effort. Of the 350,000 jobs lost early in the pandemic, Houston-area employers have added back about half that figure. Partnership Senior Vice President of Research Patrick Jankowski forecasts the region could regain another 35,000 to 52,000 jobs, mainly in the latter half of 2021. But the final figure depends heavily on efficiency of the vaccine rollout. "As the pandemic subsides, a wave of pent-up demand will be unleashed," Jankowski said in December. The sectors contributing most to job growth in this region are likely to be administrative support services, health care and social assistance, and manufacturing and professional services, according to the forecast.
87th legislative Session
State lawmakers face some difficult decisions when the 87th Texas Legislative Session gets underway January 12. The pandemic has taken a big bite out of state revenue and that could prompt budget cuts out of Austin in key areas. The Partnership has released its Texas Legislative Agenda that focuses on two broad executive priorities—access and energy competitiveness—as well as eight other areas important to the business community. The Access priority includes a focus on policies to improve public education and higher education, narrowing the digital divide and improving access to health care. The Partnership Public Policy team is working closely with lawmakers to help craft measures in each of these areas.
Innovation
Groundbreaking of TMC3
Officials at the Texas Medical Center expect to break ground in 2021 on TMC3, a world-class life science complex that will bring together the best minds in medicine across several institutions. The 37-acre project will include shared and proprietary research centers, multi-disciplinary laboratories, health care institutions, a hotel and conference center, retail, and a unique double-helix green space – totaling almost 3.7 million square feet of developed property. TMC officials say the complex slated to open in 2023 will add an estimated 17,000 jobs and $5.4 billion to the Houston economy.
Groundbreaking of Axiom Space Headquarters
The company planning to construct the world's first commercial space station announced in December that it would run the project out of the Houston Spaceport. Axiom Space said it plans to break ground in 2021 on a 14-acre headquarters facility where it will build the Axiom Station and train private astronauts. The move was heralded as a major development in Houston's bid to reenergize its leadership role in the aerospace industry. Officials with the Houston Spaceport believe Axiom Space's project could draw suppliers and other companies in the sector looking to capitalize on the region's engineering and technical workforce.
The Ion
Opening of The Ion
Anticipated to become the epicenter of Houston's burgeoning innovation ecosystem, The Ion will complete major construction in Q1, allowing tenants that include Microsoft, Chevron Technology Ventures and Common Desk to begin their buildouts. The 288,000-square-foot facility located on Main Street in Midtown will offer rentable coworking space for startups, as well as office space for corporate partners and more advanced startups. Ground level retail is also part of the plan from developer Rice Management Co. The Ion will anchor a 16-acre innovation district that will, in time, include additional office space, residential, retail and other components.
Opening of Greentown Houston
Just steps from The Ion, Greentown Labs is in the process of converting a former Fiesta grocery store into a second location of its successful climatech incubator. Projected to open in spring 2021, the incubator will provide more than 40,000 square feet of prototyping lab, office, and community space for about 50 startup companies that could total up to 300 employees. Greentown Houston is the first outpost of the Somerville, Mass.-based climatech incubator, which aims to foster emerging new energy companies. It's a major step in Houston's bid to help lead the global energy transition to a lower carbon future. The project is the first major addition to Rice Management District's 16-acre innovation district beyond its anchor, The Ion.
Opening of East End Maker Hub
The first of three phases making up the new East End Maker Hub will soon be complete. The 300,000-square-foot project being steered by TX/RX labs and Urban Partnerships Community Development Corp. is going up on Navigation Blvd. in the East End. The expansive makerspace will have dedicated areas for companies operating in 3D printing, fabrication, hardware innovation and more. While the first phase focuses on suites up to 20,000 square feet geared toward an array of uses, phases two and three slated for completion later this year will include dedicated spaces for both light and heavy fabrication as well as crafting suites. The East End Maker Hub will make it easier for local manufacturing startups to secure the space and resources they need for success.
Development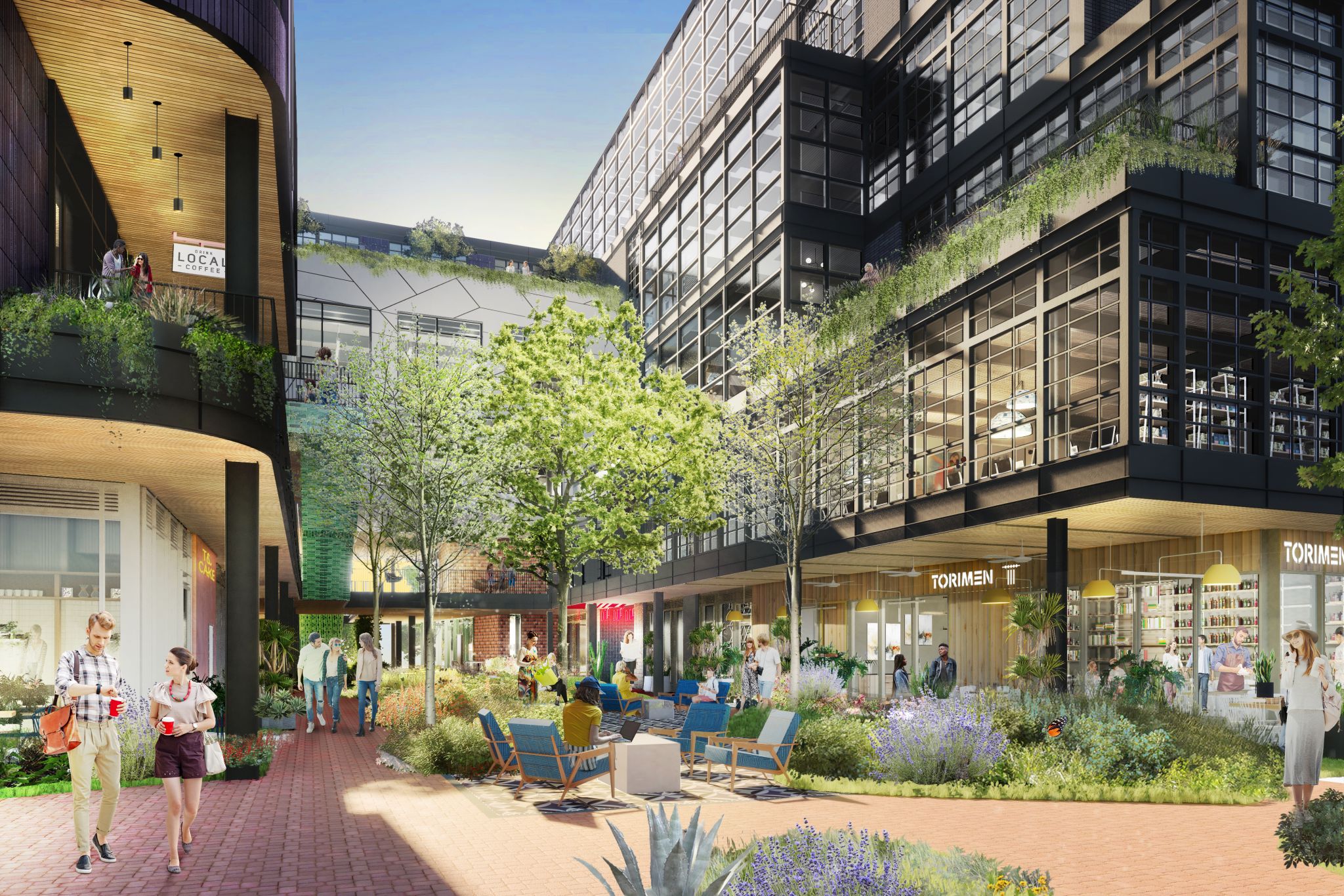 Montrose Collective
Opening of The Montrose Collective
In what promises to be a game-changing development for the Montrose neighborhood, a major mixed-use project slated for completion near the end of 2021 will bring together retail, office and civic uses in a multi-structure midrise. The Montrose Collective will include more than 150,000 square feet of space spread across five buildings near the prime intersection of Montrose Blvd. and Westheimer. The project will feature space for up to six restaurants and 15 different retail shops, as well as a new Houston Public Library branch. It's a level of density not yet realized in the historic neighborhood that, if successful, could prompt other such projects nearby.
Completion of Texas Tower
A number of office and residential developments are currently under construction downtown. But perhaps the largest commercial project set to open in the district this year is the 47-story Texas Tower rising on the site of the former Houston Chronicle headquarters. At 1.1 million square feet, the office tower will be the newest jewel in the crown of development company Hines when it opens in Q4 complete with built-in networking spaces, a conference facility, 12th floor public gardens and multiple ground-level restaurant spaces. Already reportedly 40% leased, the debut of Texas Tower will be a test for a downtown district rocked by COVID-19 and the corresponding shutdown of many office and commercial spaces.
An aerial rendering of Post Houston
Opening of Post Houston
It's been more than five years since the former Barbara Jordan Post Office on the northern edge of downtown was decommissioned with developers promising something exciting for the space. That promise will be realized late this year when Post Houston opens with restaurants, an international market, creative workspaces and a 210,000-square-foot rooftop park and garden. Lovett Commercial says future additions to the 550,000-square-foot project will likely include a concert venue and a hotel. Post Houston could prove to be a catalyst for additional projects on the north end of downtown along Buffalo Bayou, an area that has not experienced the same level of redevelopment activity as other parts of the city's core. It will also create a new destination on the northern end of the city's Innovation Corridor.
Phase One Completion of Autry Park
Rising above the south side of Buffalo Bayou along Allen Parkway, Hanover Company's Autry Park promises to be an "urban village" complete with more than 1,400 residential units, 350,000 square feet of office space and 100,000 square feet of high-end retail—all positioned around a central green space. The 14-acre development is set to open in three phases, with the first phase slated for completion in Q4. It's one of several high-density developments materializing west of downtown along Buffalo Bayou that aim to take advantage of the waterway and its linear park.
Opening of Houston Farmers Market
In a city known for serving up authentic foods from around the world, there hasn't been a one-stop-shop for experiencing all that Houston has to offer. A three-year effort from developers MLB Capital Partners and acclaimed Houston Chef Chris Shepherd aims to reinvent the Houston Farmers Market on Airline Drive into just such a destination. The first phase of redevelopment of the 18-acre site, including new buildings and public spaces, is now complete. A butcher shop, fast casual and sit-down restaurants are among the concepts set to open first, alongside existing produce tenants and other longstanding vendors. Phase two of the project, which includes an open-air pavilion, one-acre greenspace and retail is also set to come online in 2021. The Houston Farmers Market aims to become a destination for locals and visitors wanting to experience a wide array of flavors and culinary-focused shopping in one place.
Learn more about Houston as a business destination and living in the region.